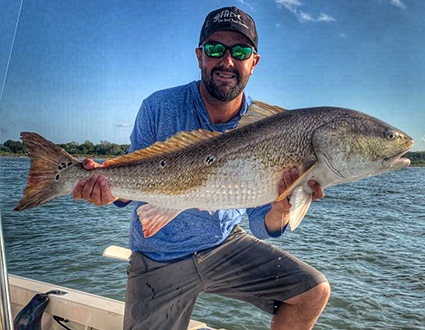 Captain Shane Flannigan
Captain Shane Flannigan is the owner of The Reel Deal Charters and takes great pride in offering a top-notch charter company for his clients. Captain Shane has been fishing the local waterways since 2002 when the Air Force brought him to Charleston. Shane served 6 years as an Air Force Firefighter serving two tours overseas during that time. His main goal is to provide an affordable premier saltwater fishing service in the Charleston area that is focused on great customer service and making memorable experiences that will last a lifetime. Join Captain Shane on the water and let him guide you through the beautiful waterways Charleston has to offer.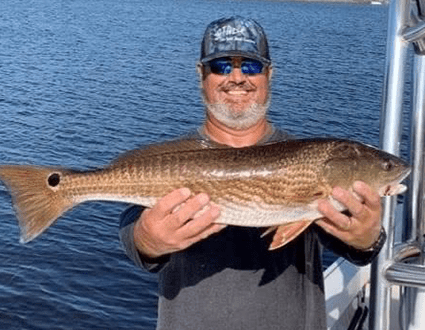 Captain Charlie "Coach"
Charlie is a certified U.S. Coast Guard Captain and Maritime Officer. Like other charter captains, Capt Charlie loved to fish as a child and went with his dad every chance he got. He grew up in the upstate of South Carolina, and has called Charleston home for 10 years. He has a Bachelor's Degree from Presbyterian College in Social Studies Education. He is a teacher of everything he does by his given talents, and has spent his life teaching in the classroom, on the football field, and now on the waterways of the Charleston area. He enjoys putting together the pieces of the fishing puzzle each day, where his specialties are fishing for all of the inshore species.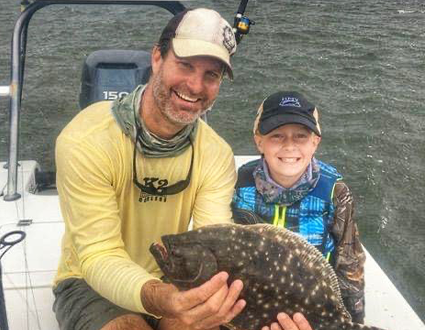 Captain Lee
Lee is a certified U.S. Coast Guard Captain and Maritime Officer. He was born and raised in Mt. Pleasant, South Carolina. His first job on the water was as a mate aboard the 110′ Thunderstar, which was the largest and best known party boat in the Charleston area. He worked there as a mate for three years, and then decided to get his captains license and become an inshore charter captain. While doing inshore charters, he freelanced on offshore boats where he received many awards such as the Governor's Cup, for largest fish for both tuna and dolphin categories.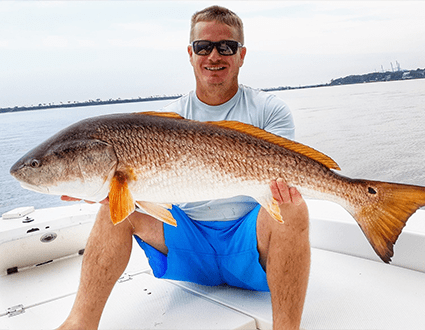 Captain Ray
Captain Ray is a certified U.S. Coast Guard Captain and Maritime Officer. He grew up on the Mill Hill in West Columbia, SC. His passion for fishing started at a young age bream fishing with his parents on the lakes, rivers, and ponds near his home. As he got older he chased stripers on both the Congaree and Saluda Rivers. After graduating from the University of South Carolina in 1999, with a BA in Liberal Arts, he moved to Charleston and got his Master's degree in Education from the Citadel. Being a fishing guide is a dream come true for Ray. He has many things he loves: fishing, sports, coaching, teaching; but none compare to the love he has for his wife and kids.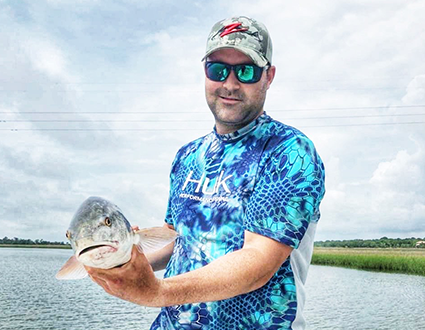 Captain David
David is a certified U.S. Coast Guard Captain and Maritime Officer, that grew up in southern Alabama, on Lake Eufaula, spending as much time possible fishing and hunting. Since childhood, his love of fishing has only grown. The U.S. Air Force brought him to Charleston in 2005 and he immediately started learning how to fish the Lowcountry waterways. The freshwater skills that he learned growing up helped him jump right in to saltwater fishing, and provided for a quick learning curve. David started in a small skiff, and after owning several boats he decided that a 24' bay boat was the perfect boat for fishing the Charleston inshore and nearshore waterways. He has a unique schedule, being a federal Firefighter/EMT, that allows him to spend plenty of time on the water. He is truly passionate about everything outdoors, especially saltwater fishing. The one thing that drew David to be a guide was the look on people's faces when they land their first big bull redfish.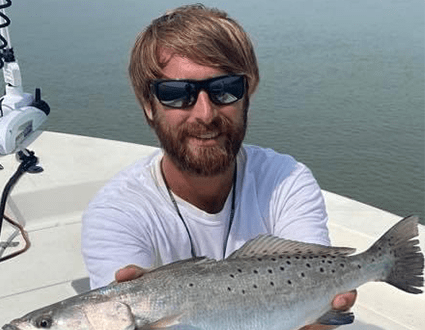 Captain Brent
Brent is a certified U.S. Coast Guard Captain and Maritime Officer. He is a 4th generation Charleston Native, fishing the local waters most of his life. Growing up he learned a lot from his family working on different fishing boats and as a mate before getting his Captains license. Whether you are a beginner or a seasoned angler, Capt. Brent is a true outdoorsman and will provide you a great fishing experience.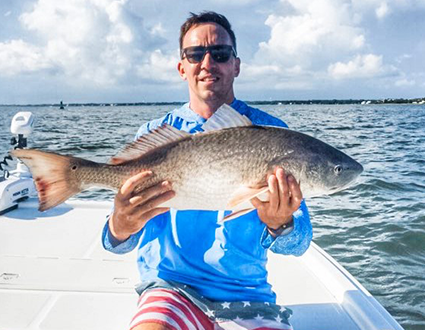 Captain Matt
Captain Matt is a certified U.S. Coast Guard Captain. Captain Matt is a U.S. Air Force veteran and also works as a firefighter/EMT. He has been fishing in Charleston for almost ten years and takes great pride in everything involving the great outdoors. His favorite thing about guiding is when the customer catches their biggest fish of their lifetime.