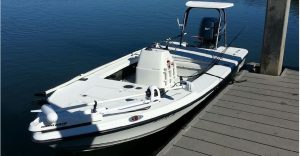 If you are interested in booking one of our Inshore Fishing Charters  South Carolina, call The Reel Deal today at 843 388-5093. We are a veteran-owned and operated business that has been serving the community since 2004. That's over 17 years of bringing the fishing experience to newbies as well as experienced fishermen. If you desire to go on a Inshore Fishing Charters South Carolina you will make memories that will last you a lifetime.
In addition to booking an Inshore Fishing Charters South Carolina, we also offer day tours consisting of the Charleston Harbor, Eco tours, Dolphin watching, Shark tooth hunting, crabbing, weddings, and funerals at sea. For more information, please call to speak with one of our knowledgeable representatives at 843 388-5093. They can be of great assistance when planning your event.
The Reel Deal Charters also offer offshore and deep saltwater fishing as well. You can try your hand at catching red drum, speckled sea trout, flounder, shark, sheepshead, sea bass, triggerfish, porgy's, spadefish, king mackerel, mahi, marlin, sailfish, wahoo, and tuna to name some of the local catch.
Inshore Fishing Charters in South Carolina
Our hours of operation are from 8 am daily to 8 pm daily. Please call to make a reservation for the day, date, and time you prefer. Naturally, the number of people permitted on each vessel is regulated.
Booking an Inshore Fishing Charter South Carolina makes a great gift as well. It is also a great way to reward your top sales team, take the Church Men's Club on a day outing, and a great way to celebrate a bachelor's party. We offer gift certificates for your loved ones as well so they can make their own arrangements for day and time they would like to experience an Inshore Fishing Charter South Carolina.
Fishing Charters in South Carolina
Each of our vessels are equipped with state-of-the-art equipment and our captains are all experienced and have been operating fishing charters for years. Consider a day out on the water enjoying the challenges and rewards that fishing offers while enjoying the sun, sunsets, and cool sea breezes. It will be a day you will remember forever!
We you aware that The Reel Deal Charters offers discounts to first responders as well as the military? Well, now you know! Please consider a wonderful day out on the beautiful waters here in South Carolina.
Book Your Fishing Trip Today!
If you would like to learn more about The Reel Deal Charters, the staff, the excursions, and affordability contact us today. In addition to emailing or booking online we can also be reached by phone at (843) 388-5093. Give the gift of an Inshore Fishing Charter South Carolina. Your loved one will be so happy with this unique and exciting gift that they never would have purchased for themselves. It's original, it's challenging and it's a great day out on the water enjoying life to its fullest. And they just may be the winner of the catch of the day!
Searching for Deep Sea Fishing Charleston? Get the best deals at The Reel Deel!