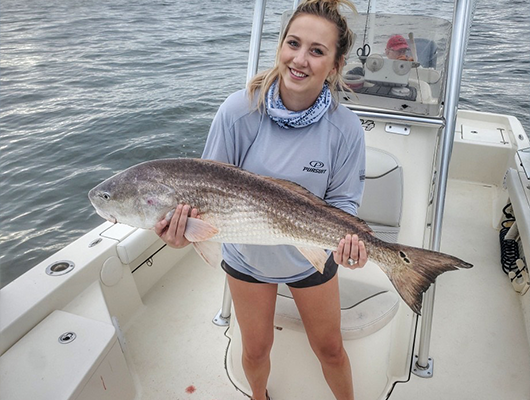 Have you been down to the shorelines and noticed a boat of fishers and wondered what that was called and thought it looked like a relaxing good time? It's referred to as inshore fishing. Read on to learn about our Inshore Fishing Charters Mount Pleasant!
When you're fishing inshore, you'll usually be within a few miles of shore and, more often than not, within casting distance of it working popular spots like beaches, rocky shorelines, piers, jetties, flats, mangroves and islands with light tackle. 
The Reel Deal Charters is Veteran owned and operated Charter Company that has been around since 2004. With multiple spots in Mt Pleasant and in Charleston, you too can relax during the trip for inshore fishing charters Mount Pleasant.
Our price range is affordable and the experience is a guaranteed great time. Not only will you learn about the open waters but you will have an opportunity to fish along side a certified U.S. Coast Guard Captain and Maritime Officer. Each trip is not like the other.
The owner; Captain Shane Flannigan has served 6 years as an Air Force Firefighter serving two tours overseas. He has been fishing the Charleston area since 2002 and decided to open The Reel Deal Charters to allow other fishing lovers or adventurers to learn more about the sport. For more information regarding our Captains and each of their back grounds please visit our website at www.thereeldealcharters.com and click on "our Captains".
Your experience and capabilities will be discussed with our experienced staff to determine what best meets your expectations. If you have a child that is very interested in the water and catching a fish the inshore fishing charters Mount Pleasant is by far the best suited for your fishing trip. Because they like a lot of action, we suggest that most of the time with small children is spent bottom fishing where the bite will keep the kids interested.
However, for that serious angler who wants to target the monster reds, flounder, trout, sheepshead or shark, inshore fishing is your best bet as well.  With our knowledge of inshore fishing, we will work the boats position to seclude the fish for the best action and bites. It is uncommon for there not be a bite when you take one of our inshore fishing charters.
Our time frames range from two hours to six hours. If this is something you feel you are interested in feel free to call us to see if we availability for an up coming tour at 843-388-5093. Our fishing/charter specialists are available daily from 8 in the morning to 8 at night to answer any questions you may have.  Or you may go on our website to view our schedule and book a tour that way.
You may view our rates and what else we have to offer. We can guarantee you will be back for another great experience with the different charters we offer here at The Reel Deal Charters Company with the multiple locations we have.  We look forward to giving you a real treat in the waters!