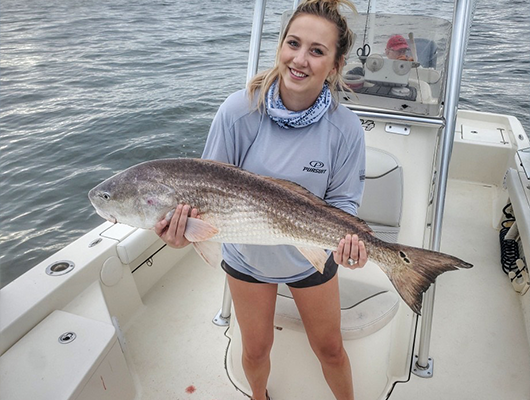 When searching for the best in Inshore Fishing Charters Isle of Palms consider the Reel Deal Charters located in Charleston, South Carolina. 
The owner is an Air Force Firefighter. The Captains of the vessels at the Reel Deal Charters are all certified retired Coast Guard and Maritime Officers. They all have specific knowledge of boating safety and regulations.
For Inshore Fishing Charters, you can take tours of the Charleston Harbor, participate in Eco tours, try Dolphin watching, Shark tooth hunting, crabbing, and even host a wedding. We also honor burial at sea wishes for a loved one.
Local Inshore Fishing Charters Isle Of Palms
Charters are available daily from 8 am to 8 pm. We also offer affordable premier saltwater fishing. With saltwater fishing, you can try your hand fishing for Red Drum, Speckled Sea Trout, Flounder, Shark, Sheepshead, Sea Bass, Triggerfish, Porgy's, Spadefish, King Mackerel, Mahi, Marlin, Sailfish, Wahoo, and Tuna. 
If you would like to read more about the Reel Deal Charters and Inshore Fishing Charters, you can do so by simply clicking on the attached link Home | The Reel Deal Fishing Charters, Charleston, SC | (843) 338-5093 (thereeldealcharters.com). You may also call our office to make a reservation by dialing directly to 843 388-5093.
Fishing Rentals in Isle Of Palms
Have you considered a gift certificate to your loved one for their birthday, anniversary, holidays, or even Father's Day? We also offer discounts to first responders and military veterans as well as those on active duty.
Our Inshore Fishing Charters Isle of Palms is a great way for corporate or sales teams to reward your employees for a job well done. It also helps encourage teamwork, sportsmanship, and bragging rights.  Ours is the ultimate fishing experience. Our vessels are state-of-the-art and safe. No additional charge for the magnificent sunsets!
Did you know that the Reel Deal Charters was rated " Excellent " by Trip Advisor?
Whether you are a fishing aficionado or just searching for an adventure, you will find both on one of our Inshore Fishing Charters. 
Since 2004 we have been offering wonderful, relaxing, and exciting Inshore Fishing Charters Isle of Palms. Call today at 843 388-5093 and schedule a trip for your family, friends, co-workers, or neighbors. It's a great way to enjoy the wonderful waterways that South Carolina has to offer. Scenic, colorful, and loaded with fish!
Local Inshore Fishing Charters Isle Of Palms
To learn more about our affordable premier saltwater fishing, please check on our website as listed above. There is also a photo gallery that you may find interesting. Get together with family and friends and see if you can be the biggest catch of the day.
Whether you choose our options for Inshore or Offshore fishing excursions you are bound to have fun. After all, this is exactly the type of Inshore Fishing Charters that you have been searching for. Please call for reservations for the specific type of boat and or trip you have in mind. 
Searching for Fishing Guides in Isle Of Palms? Get the best deals at The Reel Deel!