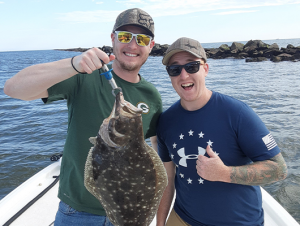 Angling in South Carolina is among the best in the world. Our inshore fishing charters in Mount Pleasant give you a unique opportunity to find the best fish and make epic catches. In many parts of the state, the areas immediately off the coast – up to a few miles – are the richest fishing waters and the place where a majority of fish spend their time. Thus, inshore fishing charters in Mount Pleasant offer the ultimate fishing experience.
Expert-Led Fishing Expeditions
Knowing where to fish and when is often a skill that only local professionals have. Therefore, if you're new to Mount Pleasant or the surrounding area, you don't always know the best spots.
That's where our expert-led fishing expeditions can help. We take you on a chartered trip to the most productive waters, maximizing your chances of making a significant catch. What's more, we provide state of the art equipment and tackle, making our excursions even more convenient.
What Type of Fish Are Available?
Inshore fishing charters bring you within striking distance of multiple species – some small, some large. The type of fish you catch will depend heavily on the season and the area in which the boat stops. During your trip, you may encounter sea bass, porgy's, king mackerel, marline, sailfish, tuna, shark, and many others.
The majority of our inshore fishing occurs close to the shore. We use a trolling motor to disturb flats and banks, encouraging fish to emerge. This method is highly effective and makes it much more likely that you will get a catch during the charter.
We also take into account the tide. Reds and sheepsteads tend to bite more often when the tide is low.
How Many Fish Will You Catch?
While we cannot guarantee the productivity of inshore fishing charters, you stand a good chance of catching a large number of fish. It is not uncommon for anglers to catch more than fifty fish in a single expedition.
Who Are Inshore Fishing Charters in Mount Pleasant For?
Our inshore fishing charters in Mount Pleasant are for everyone, whether you're a professional angler or somebody who is just getting started. You can discuss your trip with staff beforehand, based on your level of capability and skill. We will propose a route that will meet your expectations and allow you to test your abilities.
How Long Is The Charter?
We offer three charter options:
● Two-hour
● Four-hour
● Six-hour
Which you choose depends entirely on you. We aim to make our charters as affordable as possible. Children are welcome on all our charters.
What Other Charters Are Available?
We offer a range of other fishing charters in the Mount Pleasant area besides inshore charters, including saltwater, nearshore, and offshore. We can also organize group trips, eco-tourism and special shark fishing trips.
Book Inshore Fishing Charters In Mount Pleasant Today
If you love angling, then reserve your place on our inshore fishing charters today. It's time to enjoy bountiful waters and make some big catches.