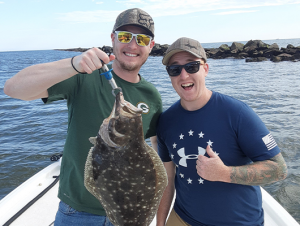 Whether you're a new or experienced angler, it always helps to have an expert by your side when you go fishing in a new region. That's precisely what our fishing guides in Mount Pleasant provide. You'll benefit from their accumulated knowledge and wisdom, giving you the support you need to make epic catches. Our fishing guides in Mount Pleasant offer inshore, offshore, and saltwater charters, and can even accommodate family, corporate or group trips.
Get in touch with us today and book one of our fishing guides in Mount Pleasant to make your next South Carolina fishing expedition one to remember.
Why Choose Fishing Guides In Mount Pleasant?
There are so many reasons to choose your fishing guides in Mount Pleasant.
Better Catches
If you're struggling to get results at your local haunt, then it's time to go on a chartered fishing expedition. Our experts seek out the spots most likely to yield action. We disturb the underwater habitat, bringing fish out of hiding and encouraging them to bite. It's not uncommon for customers to catch fifty or more fish in a single day.
Equipment Provided
Don't have equipment? Not to worry. We provide tackle and other items that you might need included in the cost. Say goodbye to hours of preparation and get the fishing experience that you want.
Multiple Fishing Charter Types
We offer a host of charter types. These include:
● Group trips
● Offshore
● Nearshore
● Shark fishing
● Inshore
● Saltwater
No matter what type of angler you are, we have something that will appeal. Whether you want to go 80 miles out into the ocean to find big game or prefer to stay closer to the shore for smaller fry, we can accommodate.
Electronic Location Assistance
All our boats come equipped with state-of-the-art electronics, allowing us to locate fishing sites. Technology ensures a great day of fishing in Mount Pleasant and the surrounding area. We track shoals and use data to predict the more productive spots.
Taxidermy Replicas
You will need to return some of your catches to the ocean. However, our team can take measurements of fish before you do so, allowing us to replicate your prime catches in fine detail. Just hang your catches on the wall when you return home.
Exceptional Customer Service
As a nominee for the Best of Charleston Charter Boats, we provide exceptional customer service. Our team is utterly dedicated to ensuring that you get the day out that you imagine. We can tailor the experience to your level of experience or skill, or help you find specific types of fish and marine life.
Book Your Fishing Guide in Mount Pleasant
If you haven't experienced a chartered fishing expedition yet, now is your chance. Not only will you enjoy a rewarding day of fishing, but you'll also have an opportunity to see beautiful wildlife too, including hermit crabs, sharks and even dolphins.
So what are you waiting for? Contact us today to book your trip. Tell us a bit about yourself and the service that you'd like. We will do the rest for you.