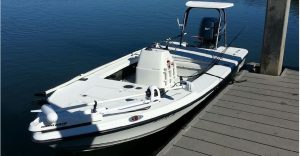 The Reel Deal Charters offers you the ability to experience true Fishing Charters South Carolina. You don't have to do anything but enjoy the experience. Drop-in your line and see what takes your bait. The Reel Deal Charters is owned and operated by Veterans. We are all Air Force Firefighters, Coast Guard, and Maritime Officers. All certified and all with the best experience you will ever find.
Inshore Fishing Charters Near South Carolina
When booking one of our Fishing Charters know that we offer Inshore, offshore and deep saltwater fishing charters. All of our vessels are approved, have state-of-the-art equipment, and are guaranteed to make the best fishing experience you have had!
Maybe you would like to gift one of our Fishing Charters. It makes a great Father's Day gift as well. Consider gifting to your best sales team as a reward for their achievement, your Church Men's Club or just for a family day of fun on the water. What a great way to enjoy a bachelor's party as well.
We are conveniently located in the Mt. Pleasant area, Shem Creek Park, Charleston Harbor Resort & Marina, Remley's Point Marina, and Ripley Light Marina. We offer Fishing Charters South Carolina from 8 am to 8 pm daily. Call us at 843 388-5093 for more information or to schedule a reservation.
If you would like to know more about The Reel Deal Charters or about the different fishing locations, please simply click on the attached link www.thereeldealcharters.com. Or call us directly at 843 388-5093 for pricing.
Fishing Charters in South Carolina
Some of the fish you may encounter on one of our saltwater excursions are red drum, speckled sea trout, flounder, shark, sheepshead, sea bass, triggerfish, porgy's, spadefish, king mackerel, mahi, marlin, sailfish, wahoo, tuna to list some of your fishing catch possibilities.
Did you know that in addition to Fishing Charters you can also book tours with The Reel Deal Charters. We offer tours of Charleston Harbor, Eco tours, Dolphin watching Shark Tooth Hunting, crabbing, weddings, and funeral at sea options. For more information on any of these tours, please call directly to speak with one of our knowledgeable representatives.
If you have been searching for a unique way to enjoy the summer months, enjoy a cool breeze in your hair, love the peace and tranquility of the ocean, and like the competition that fishing on a charter boat can offer, consider going on one of our Fishing Charters. You just may get hooked on fishing!
Local Spots Inshore Fishing Charters Near South Carolina
In addition to getting rave reviews from our customers that come back season after season, we have also been rated " Excellent" by Trip Advisor. We take numerous credit cards and are looking forward to giving you the fishing experience of a lifetime. Please note, children must have parental supervision.
Come and see how inshore, offshore and deep saltwater fishing can be your ultimate challenge because when it comes to the best in Fishing Charters South Carolina, nobody does it better than The Reel Deal Charters.
Searching for Inshore Fishing Charters Charleston? Get the best deals at The Reel Deel!