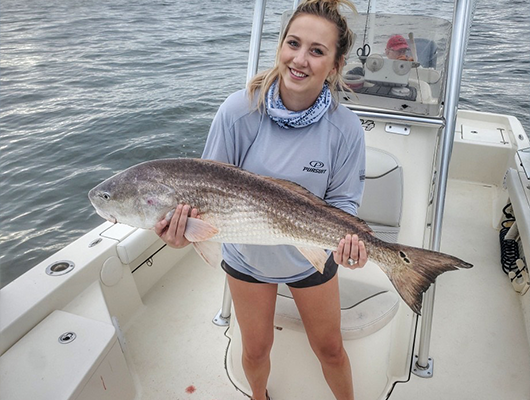 Charleston South Carolina has the best Fishing Charters Isle of Palms with The Reel Deal Charters. We are Veteran owned and operated and all of the captains of each vessel are certified Coast Guard and Maritime Officers.
If you have always wanted to go on one of our Fishing Charters now is the time. We have locations in the Mt. Pleasant area in Shem Creek Park, Charleston Harbor Resort & Marina, Remley's Point Marina, and Ripley Light Marina.
Find Fishing Charters Near Isle of Palms
We offer inshore as well as offshore and deep saltwater fishing. This is the ultimate fishing experience. It is affordable premier saltwater fishing.
If you are searching for Fishing Charters where you have the ability to get out there and catch Red Drum, Speckled Sea Trout, Flounder, Shark, Sheepshead, Sea Bass, Triggerfish, Porgy's, Spadefish, King Mackerel, Mahi, Marlin, Sailfish, Wahoo, and Tuna, here is your chance. 
We have great vessels that offer state-of-the-art equipment.
Fishing Trips in Isle Of Palms
The Reel Deal Charters can offer you gift certificates so you may gift a wonderful day out at sea for your loved one. A day of fishing, sunshine, friends, and family. Life doesn't get better! Think about holidays, birthdays and of course Father's Day.
Our Fishing Charters are available daily from 8 am to 8 pm. No additional charge for beautiful sunsets!
We also offer discounts for first responders and Military Veterans.
Maybe you are interested in Fishing Charters Isle of Palms to take the family on a great adventure. We offer tours of Charleston Harbor, Eco Tours, Dolphin watching, Shark Tooth Hunting, crabbing, weddings, and burial at sea funerals.
Did you know the Reel Deal has been rated " Excellent" by Trip Advisor?
Since 2004 we have been offering wonderful, relaxing, and exciting Fishing Charters. This is a great opportunity for corporate trips such as sales team awards. What a great way to show teamwork, sportsmanship as well as boasting rights! 
Find Local Fishing Charters Isle of Palms
For over 14 years we have been providing local communities the enjoyment of fishing. Our stellar reputation speaks for itself. Why not discover that you may have a hidden talent for fishing? If you would like to learn more about the Reel Deal Charters and check the pricing of our Fishing Charters Isle of Palms, simply click on the attached link for more general information. Home | The Reel Deal Fishing Charters, Charleston, SC | (843) 338-5093 (thereeldealcharters.com).
The Reel Deal Charters can provide you with a unique way to celebrate any occasion. Or just enjoy a day out on the water. But you won't know what you are missing if you don't try it. Call our office today at 843 388-5093 and schedule a day of fun, fish, and memories. You won't regret it!
Schedule your Fishing Charter in Isle of Palms
Visit our website as listed above for current pricing. But don't forget to ask about discounts if any member of your party is a first responder or in the Military or Military veteran. Have fun.
Searching for Fishing Guides in Isle Of Palms? Refer to us at The Reel Deel!