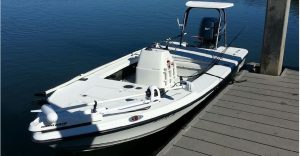 Are you looking to get out and start fishing with an expert crew as your guide? If so, then fishing charters in Folly Beach could be just what you are looking for. Experienced anglers who know the area take you to prime locations, allowing you and others to catch vast numbers of fish in a single haul.
Types Of Fishing Charters in Folly Beach
No matter what type of fishing charters in Folly Beach you want to enjoy, The Reel Deal Charters have something for you. Below, we list some of the spectacular charters you can enjoy.
Saltwater fishing: If you want to get out into the open ocean and catch big fish, then our charters can help. We take you to pristine territory, giving you an opportunity to catch ocean-dwelling species you might not have fished before. What's more, if you catch a big fish that you want to replicate, our taxidermists can make a copy for you so that you can hang it on your wall and remember it for the rest of your life.
Inshore fishing: If you want to catch flounder, trout and sheepshead, then inshore fishing charters are the perfect opportunity. We tailor each charter to your individual skill, whether you're a novice who has never been out on the water before, or an experienced angler with years of expeditions under your belt. Choose between two, four and six-hour charters – whatever floats your boat.
Shark fishing: If it's the thrill of snagging a shark you're after, we provide shark-specific charters too. This will give you an opportunity to fish for blacktips, sandbars and every species in between. Trips last between two and six hours.
Nearshore fishing: Nearshore fishing provides opportunities to fish for species that live near the bottom of the sea or on artificial reefs. Boats travel anywhere up to twenty miles away from the coast, giving you opportunities to catch sea bass, sheepshead and more. We run charters from the start of the year through April.
Offshore: Offshore fishing trips take you between 20 and 80 miles out to sea, giving you opportunities to catch fish that you may not have encountered before. Intrepid souls who travel with us can catch amberjacks, groupers, large triggerfish and many others.
Group trips: If you'd prefer to fish in the company of others or want to arrange fishing charters in Folly Beach for bachelor/bachelorette parties, family trips or corporate functions, we can help. Just tell us how many people you want to bring and we can do the rest.
Book Fishing Charters in Folly Beach Today
Whether it's inshore, offshore, or deep sea saltwater fishing charters in Folly Beach you're looking for, we can help. Our objective is to give you the best service possible in the Charleston area, giving you opportunities to catch fish you never thought possible. Throughout the entire experience, we take care of you, even providing any equipment or tackle you need.
Get in touch with us today and book fishing charters in Folly Beach.