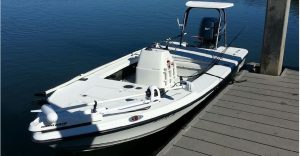 Fishing is one of the most popular pastimes in the world, and for many people it is more than simply recreational. There are so many different types of fishing, such as inland, outland, and saltwater fishing, and you need to decide which appeals the most to you.
If you are interested in Deep Sea Fishing in Mount Pleasant, continue reading! There are so many factors that you are going to have to make the most of if you want to enjoy angling in your life right now.
Deep Sea Fishing Near Mount Pleasant
One thing is clear, deep sea fishing in Mount Pleasant is certainly growing in popularity, and this is something you could make the most of right now. With our renowned deep sea fishing expeditions, you can get out on the ocean and enjoy some authentic saltwater fishing, amid the raw power of the sea, and this is one of the reasons why you need to check out our amazing deep sea fishing charters.
Become a Part of Our Deep Sea Fishing Charters
We prepare everything to ensure that you have the most amazing time on our trips. You can choose from multiple packages, and select a two, four, or six hour charter experience. We have an attentive crew led by Captain Shane Flannigan, in addition to other experienced captains as well. We provide all of the equipment and fishing gear that is needed to help you have a complete experience. If you're looking for some amazing ideas for deep sea fishing in Mount Pleasant, you should definitely make sure you get in touch with us, and book the perfect charter fishing adventure right now.
Find Unique Deep Sea Experiences Near Mount Pleasant
One of the key reasons that so many people love to make the most of our saltwater fishing charters is because it offers them a unique and fun experience. Heading out onto the wilds of the deep, blue sea to pit your wits against nature is one of the most thrilling and exhilarating things an angler can do, and this is what we help you to achieve. We also operate a catch-and-release policy, so anything you catch will need to be returned to the ocean, but it will be done with the knowledge that you have conquered nature, at least for a time.
Book Your Journey Today
We have different price points that will cater to those with different budgets who want to be able to have an enjoyable and engaging experience deep sea fishing in Mount Pleasant. Use the online contact form or booking system to lock in the tour that you want, and let's start building towards the perfect adventure right now.
You need to do as much as possible to consider the best ways of being able to enjoy fishing charters, and they are the perfect way of taking important steps to have a more enjoyable fishing adventure.
These are some of the things that you need to know when it comes to enjoying deep sea fishing in Mount Pleasant, and, at The Reel Deal Charters, we have plenty of charter fishing expeditions that you can experience and enjoy right now. So get in touch with our team to book a trip for you as soon as possible.