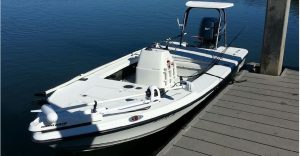 Fishing lovers looking to enjoy some of the delights of deep sea fishing will find everything they're looking for with The Reel Deal Charters. We provide some of the best deep sea fishing charters in the industry.
All built around giving you the most breathtaking angling experience imaginable.
There are lots of factors involved in fishing that so many people overlook or take for granted, but it's attention to these details that makes our services stand out.
Deep Sea Fishing Charter Services In Charleston
Anglers looking for the ultimate fishing experience will fall in love with our charters, and our friendly, knowledgeable and accommodating crew. It is important to us that you have an enjoyable and immersive experience, and this is something that you can enjoy with our saltwater fishing charters.
What is Deep Sea Fishing?
Deep sea fishing differs from typical fishing in two ways; firstly, you are fishing directly into the ocean as opposed to a freshwater lake or river, and secondly, you are actually fishing off a vessel like a fishing boat, as opposed to the bank of a river. Deep sea fishing is a less common type of fishing, but it is growing in popularity due to the excitement of the unknown, and the enduring battle of man/woman versus nature.
Our Fishing Charters
Our fishing charters offer you the opportunity to enjoy some amazing deep sea fishing in Charleston and have a full and complete adventure out on the ocean. Enjoy state-of-the-art equipment supplied by us, and an angling experience guided by our expert staff and led by Captain Shane Flannigan. Our saltwater fishing charters will include sea bass, tuna, speckled sea trout, spadefish, King mackerel, and many more. We promote a catch-and-release philosophy, but are happy for you to keep your catch for dinner if that is your plan.
What Else We Offer
In addition to an unforgettable experience and adventure, we are also able to provide all the licenses, tackle, equipment and electronics that are necessary for a complete fishing trip, and this is something that is all included in the price of the charter. And, as a new feature, we now offer a replica of your catch; just let the captain know the measurements and weight, and take some photos, and the taxidermist will create an exact replica of the catch you made.
Book a Deep Sea Fishing Trip in Charleston
Get in touch with us today if you would like to book your fishing charter and have the adventure of your life right now! We have contact forms you can fill out on the website that will allow you to fill out details, ask questions, and arrange a booking.
We also have an online booking system, as well as a phone number that you can use to get in touch and speak to our team right away.
Deep Sea Fishing Charter Services In Charleston
In order to enjoy deep sea fishing in Charleston and be able to have a full and complete fishing adventure, you need to make sure you book this with us right now. There are so many great adventures to be had out on the ocean, and our deep sea fishing charters are a wonderful way of having this experience.